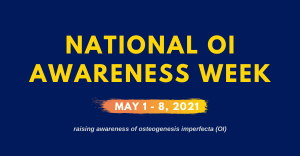 Wow! Last year,  23 states officially proclaimed National OI Awareness Week! Thank you to everyone who helped raise awareness of OI in their local and state communities. Help us proclaim May 1-8, 2021 as National OI Awareness Week across the country!
It only takes 5 minutes to submit a proclamation for your state! Once you submit a proclamation request, contact Christina Teufert at cteufert@oif.org or 301-947-0083. If you receive your proclamation in the mail, please send a scanned copy to cteufert@oif.org
To request a proclamation in your state, follow the steps below.
Click on your state below.
If needed, please use the

suggested Proclamation Request Language and Suggested Proclamation language.

If required, you may copy/paste this into your proclamation request form.
Once you have submitted the request, notify Christina at cteufert@oif.org. Please include your name and the state you submitted a proclamation request for.
When you receive your proclamation, please send an electronic version to cteufert@oif.org. If you did not receive an electronic version, please send a photo of the mailed proclamation.
Alabama
Alaska
Arizona
Arkansas
California
Colorado
Connecticut
Delaware
Florida
Hawaii
Idaho
Illinois
Indiana
Iowa
Kansas
Kentucky
Maine
Maryland
Michigan
Minnesota
Mississippi
Missouri
Montana
Nebraska
Nevada
New Hampshire
New Jersey
New Mexico
New York
North Carolina
North Dakota
Ohio
Oklahoma
Oregon
Pennsylvania
Rhode Island
South Carolina
South Dakota
Tennessee
Texas
Utah
Vermont
Virginia
Washington
Washington, DC
Wyoming
Thank you for your help!