Current OI Studies and Publications
Participation in OI research helps advance the scientific understanding of OI so that more and better treatments can be made available to the OI community. Take a look at OI studies and recent OI publications below.
---
CURRENT OI STUDIES
---
Supporting research is an important part of the OI Foundation's mission. Often, the success of clinical studies of a rare disorder like osteogenesis imperfecta (OI) depends on getting enough people to participate in the study so the results are meaningful. People who are interested in participating in a clinical trial are encouraged to review the fact sheet What You Need to Know about Clinical Trials. Additional information about research studies can be found on www.clinicaltrials.gov.
The following studies are currently enrolling participants:
Disclaimer: The OI Foundation is not involved in the design or management of this research, and as such, is neither endorsing nor supporting these studies. The mission of the OIF is to keep the OI community informed of all relevant studies. This information is made available as a service to the OI community.
—
Participate in the OI Wellbeing Study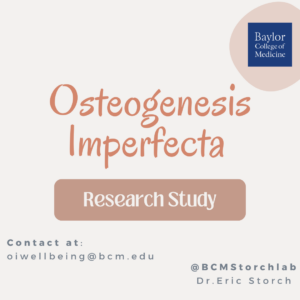 Baylor College of Medicine is conducting this OI Wellbeing Study as a part of the Brittle Bone Disorders Consortium which aims to improve the lives of people with Osteogenesis Imperfecta.
This study addresses an under-researched aspect of health critical to the wellbeing of the OI community, namely psychological health. Participants will meet with a researcher over a secure teleconference platform for about 1 hour and complete a series of questionnaires about mental health, physical health, quality of life, social wellbeing, and experience with health care professionals. Participants are compensated $50.
This information may help develop psychological interventions personalized for people with OI. Please share information about this study with any adult with OI that you believe may be interested in participating.
If you have any questions about the study or are considering participating, please email OIWellbeing@bcm.edu or call (713) 798-0117.
—
7707: Use of clear aligners for the treatment of dental malocclusion in individuals with Osteogenesis Imperfecta Types III and IV (Brittle Bone Disorders Consortium)
The purpose of this study is to determine if it is safe to use Invisalign clear aligners in correcting the misalignment of teeth in people with OI. Clear aligners are transparent plastic trays that are designed to fit over your teeth. With each new tray, teeth are moved a little at a time until they reach the desired position. We plan to have approximately 57 people take part in this study.
For more information, please contact Dianne Nguyen (BBDC Project Manager) at (713)798-6694 or diannen@bcm.edu. For more information about current studies through the Brittle Bones Disorders Consortium (BBDC), visit the BBDC webpage.
—
Poise 1 (Sanofi)
Sanofi is conducting an early phase study in adults with OI Types I and IV with an anti-TGFb antibody called SAR439459. This study is called Poise 1 and is a Phase 1 study*. This study involves a single administration of SAR439459 given intravenously (IV) into the arm, with a 6-month follow period. At this early stage in development, Sanofi is recruiting a limited range of study participants but we do anticipate expanding enrollment criteria in future studies. Participants in the Poise 1 study are not likely to experience benefits from SAR439459, and 25% will receive a placebo, but all participants will help with the scientific understanding of OI and SAR439459 as we prepare for future long-term studies. The study also includes digital, non-invasive strategies to better understand how OI patients move and are active throughout the day.
All participants will be reimbursed for travel and accommodations involved in visiting study sites during the study duration, including airfare for those who are not within driving distance of a study site.  Please see the study brochure for more information about where the study sites are located and for references to the information given above.
If you have any questions about this study, you may email 
Contact-US@sanofi.com
or call 800-633-1610, ext option 6 (Toll free for US & Canada).
—
Ultragenyx Studies
Two clinical studies investigating setrusumab for the treatment of osteogenesis imperfecta (OI) in pediatric and young adults are currently enrolling participants. The goal of these studies, ORBIT and COSMIC, is to determine whether setrusumab can safely and effectively restore bone production. If it works, this treatment could impact individuals living with OI in an important way—potentially making bones stronger, reducing fractures, and growing new bone. Below are snapshots of both studies.
ORBIT Study
Phase 3 study evaluating the safety and efficacy of setrusumab vs. placebo
Currently enrolling patients aged 5 to 26 years old with OI types I, III, and IV
Must be willing to not receive bisphosphonate therapy during the study

***On October 14, 2023, Ultragenyx announced Interim data from the Phase 2 portion of the Orbit study, which showed that treatment with setrusumab reduced incidence of fractures in patients with OI by 67% following at least 6 months of treatment and demonstrated improvements in lumbar spine bone mineral density (BMD).

CLICK HERE TO READ THE FULL PRESS RELEASE
COSMIC Study
Phase 3 study evaluating the safety and efficacy of setrusumab vs. IV bisphosphonates
Currently enrolling patients aged 2 but less than 5 years old with OI types I, III, and IV
In both clinical studies, every patient will receive expert medical care from a study team that has experience with OI. The study team will include doctors and nurses who work with people living with OI and understand their needs and concerns. The top priority will always be the health of the patient. All medical care that is part of the study will be provided at no cost.
Dr. Alison Skrinar (Ultragenyx) joined OIF Board Member Dr. Michelle Fynan to discuss setrusumab and the clinical trial process. Click here to watch this video. To help you decide whether ORBIT or COSMIC are right for you or your child, please contact OIStudyInfo@Ultragenyx.com or visit www.ultraclinicaltrials.com for more information.
Interested in learning more about participating in Clinical Trials? Take a look at the OI Foundation's What You Need To Know About Clinical Trials Factsheet.
---
PUBLICATIONS
---
Below is a collection of published OI research. We will continue to update this list as more information becomes available.
OI Research – Adults with OI  This spreadsheet, created by Riley Johnson B.S. (Research Assistant, Oregon Health and Science University), was created as a resource for people interested in the medical science supporting osteogenesis imperfecta (OI) in adults. The object of this project was to compile a comprehensive list of articles published in the scientific literature about adult OI in humans. Please note that there may be overlooked articles, and new articles may not be included yet.