In July 2020, the OI Foundation released a statement affirming our commitment to diversity, equity, and inclusion initiatives at the OI Foundation. We realize change starts with us and we are conducting an internal review of our programs and services to determine how we can be more inclusive as a Foundation in order to support the entire OI community.
We are proud to partner with diversity, equity and inclusion professional (and OI community member!), Chaz Kellem.
"In the past year, the OIF board of directors and staff took a long, hard look at our programs and how we're engaging all members of the OI community. That exploration led us to Chaz Kellem. As an OI community member, Chaz not only has an intimate understanding of the OIF's mission, but he's also an expert in developing and sustaining engagement efforts at the local, regional and national levels, across diverse constituencies. We know Chaz's people-first approach will identify and address opportunities within the OIF, so we can better drive transparency, understanding and accountability."
– CAMERON PENN, OIF Board President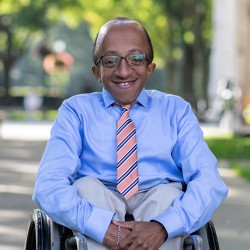 Chaz has ten years of experience as a diversity, equity, and inclusion professional. He currently serves as the Director of PittServes, a program that provides University of Pittsburgh students the opportunity to engage in ethical and sustainable service to the community on a local, national and international scale. Chaz is active and committed to the community, as he serves on several non-profit boards including ACHIEVA, Best Buddies PA and Miracle League of Moon.
"It is such an honor to work with the Osteogenesis Imperfecta Foundation as we explore diversity, equity, and inclusion initiatives within the organization. The team is putting in hard work to assure our programs and services are accessible and available for the entire OI community."
– CHAZ KELLEM
The OI Foundation is thrilled to have Chaz on our team as we continue our work to support the entire OI community.