OI Foundation Board President, Cameron Penn, shared a special message with the OI community:
Dear friends and fellow members of the OI community,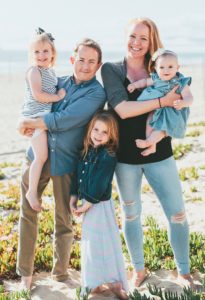 I never imagined writing this letter under these circumstances. Life, for most of us, has been on hold. We're unsure of our place in the world. The sheer senselessness is far beyond most intelligence.
But, what we've already seen from the OI community during this unprecedented pandemic is incredibly positive. In the midst of searching for answers and coping with anxiety, all of you, our medical professionals, and the staff of the OI Foundation have stepped forward in ways we never thought possible. Virtual community support groups have emerged, parent groups are energized, and group video sessions have enabled the entire community to stay engaged and informed. We're pushing forward, as cliché as that sounds and as corny as it feels.
There will be modifications, there will be adjustments, and there will be challenges in the upcoming months. The OI community knows this better than anyone, and we know we're far from invincible. As we've seen time and again over the past 50 years, we're strongest when we're together. So, to the folks out there who want to tell us – especially those of us in high-risk populations – that getting back to normal is some sort of fantasy, we know this, too, shall pass.
Normally – there's that word again – we would be regaling you with plans for the OIF National Conference right around this time. We would be looking forward to reconnecting with hundreds of our closest friends, and we at the OI Foundation would be asking for your help, to make all of this possible.
Yes, fundraising. Donations. The mission never stops.
We know that during these challenging times, it would be unrealistic to set some arbitrary fundraising goal. Individuals are hurting. Families are struggling. Under these conditions, ends don't always meet and it is hard to consider making a donation. We know that.
So here's what we would like to ask: continue reaching out, keep connecting, continue the dialogue and take part in the OI Foundation's Virtual Conference July 10-12. We're helping each other through this, we'll be back, and we'll be better, because we'll be paying more attention to each other. We'll be more aware. We'll be #strongertogether.
For those of you who are able and would like to contribute to the OIF's mission during this time of extreme need, you'll be helping us face the unique challenges that come with this climate. The need to support our community hasn't evaporated, it has doubled. We would greatly appreciate your continued support, even in the smallest way. To contribute, go to www.oif.org/donate or return the enclosed envelope with your special gift. More than ever, a single dollar goes a long way. Especially because thanks to one generous donor, we will match the first $10,000 raised through June 15th.
Someday, we won't be too scared to join together again. To hug. To high-five. To embrace. Gatherings of family and friends will begin to return – even if we are still struggling or still a bit unsure. We'll do it, because it means so much. Those small, but powerful moments safeguard our memories. They are the way we celebrate being alive.
Even though the world has been transformed, and "getting back to normal" means something different now, that's what we'll do, no matter who or where we are. Because that's what living is.
Until we can once again gather on a grand scale – mark July 8-11, 2021 on your calendars now for the re-scheduled OIF National Conference in Omaha, NE. All of us on the OIF staff and board of directors hope you, your families, friends, and co-workers are and will remain in the best of health. We encourage you to reach out to the OI Foundation with any questions or concerns you may have.
Warm Regards,
Cameron Penn
President, OIF Board of Directors
cameron@heyguymedia.com