Don't Miss Your Chance to Make an IMPACT on the Future of OI Research!
The IMPACT Survey is the first-ever international survey aimed at capturing and quantifying the real impact OI has on people's lives. The results from this survey will be used to enable better healthcare services for both children and adults and to support availability of potential future treatments for OI. The Impact Survey will close at the end of this month.
If you have OI, or are a parent/caregiver of a child with OI, WE NEED TO HEAR FROM YOU!
Make an impact on the future of OI research by completing the Impact Survey TODAY at: www.impactsurveyoi.com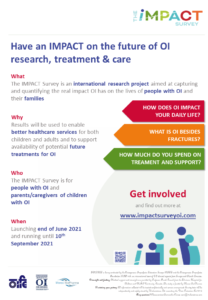 If you have any questions, please contact the OI Foundation at bonelink@oif.org.