In 1968, Gemma Geisman wrote an article that was published in Redbook magazine about her son who was living with osteogenesis imperfecta. Letters started flooding her mailbox. Within months, a concerned group of parents came together to support each other and in 1970 formed the Osteogenesis Imperfecta Foundation. We owe a very special thank you to the OIF's founders and long-time volunteers. Our founders had a vision of an organization that would help families living with OI. Today, the OIF provides information to more than 15,000 constituents each year, hosts regional and national conferences, and brings together medical professionals and researchers from around the world to help direct and advance new OI research.
---
OIF FOUNDER, GEMMA GEISMAN
Remembering Gemma Geisman
Gemma, with the help of a small group of parents, made it her mission to bring information and support to families with OI. Gemma was involved in publishing the first issue of the OIF Breakthrough Newsletter, creating the first brochure about OI, establishing the OI support group network, organizing the first OIF National and Regional Conferences, and so much more. This year is the OI Foundation's 50th anniversary year. The OI Foundation would not be here today without Gemma's dream to bring information and support to families with OI. We owe a very special thank you to Gemma for her dedication to the OI community for more than fifty years. She will be greatly missed. Click here to learn more about Gemma.
---
HAPPY 50TH ANNIVERSARY, OI FOUNDATION!
---
50 YEAR TIMELINE
Take a look at the five decade timelines of the OI Foundation's accomplishments below!
1970-1979
---
1980-1989
---
1990-1999
---
2000-2010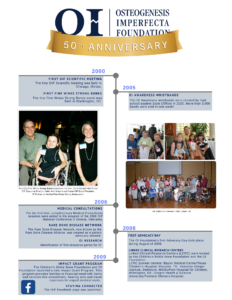 ---
2010-2020
THANK YOU FOR CELEBRATING 50 YEARS WITH THE OI FOUNDATION!