OI Foundation Membership Program
On August 21, 1970 a group of parents came together to form the first patient advocacy organization in the United States for people with osteogenesis imperfecta named the Osteogenesis Imperfecta Foundation. Since then, the OI Foundation has become the primary support organization for individuals and families with osteogenesis imperfecta in the U.S.
Over the last 50 years, the OI Foundation has expanded research efforts for treatment options, advocated for OI awareness, created and updated OI resources, provided avenues to train new medical professionals, offered mutual support programs like National and Regional Conferences, and so much more.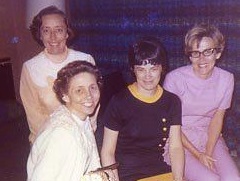 OI Foundation members make up the heart of our organization. Without members, supporters, and friends like you we would be telling a different story 50 years later. This year we dedicate our annual membership campaign to remembering where we started in 1970. Please consider becoming a member of the OI Foundation to continue the legacy of families and individuals living with OI determined to find answers.
OI Foundation founders Becky Keller, Midge Peck, Renee Gardner, and Gemma Geisman at the OIF organizational meeting on April 22, 1970 at Shriners Hospital in Chicago.
The Osteogenesis Imperfecta Foundation owes its continued success to its members. The organization's future depends on you! Show your support of the OI Foundation by becoming a member today.
---
Join the 1970 Society!
In honor of remembering 1970, we have extended the opportunity to celebrate the OI Foundation's 50th anniversary by becoming a member of the 1970 Society in recognition of the OI Foundation's inaugural year. Members who give at least $1,000 will become part of this special circle. You can make your donation in a single pledge or in installments over ten months. You can also dedicate your $1,000 gift in honor or in memory of a loved one. As a 1970 Society member, you will receive a limited edition OIF 50th anniversary lapel pin and special acknowledgment in the OIF annual report and on our website.
1970 Society Members
Anthony & Jennifer Benish, Ellen Benish, Jo Ann Berkenbush, John & Nancy Braitmayer, Lane & Carol Brundieck, William Danner, Jeanne Franzone, MD, Francis Glorieux, OC, MD, PhD, Sherri Goodman, Stephanie Greenwood, Stephen Gudek, Sr., Famida Hanif-Weddle, Gerald Harris, PhD, PE, Tracy Smith Hart, Priscilla Kilman, Richard Kruse, Ben & Barbara Miller, Jonathan &, Sharon Mutnick, Melanie Rak, Robert Sandhaus, MD, PhD, Peter Smith, MD, Jack & Carol Sprawls, and S. Jacinta Whyte.