To all of our friends in the OI community,
After much consideration, we have decided to make the 2021 OIF National Conference a virtual affair. The OIF Board of Directors, staff and medical professionals believe there's still too much uncertainty surrounding travel and large gatherings, and letting this decision linger any longer could create unfair travel burdens or financial hurdles and those are the last things we want for our community.
The success we enjoyed in July with our first virtual National Conference made this decision even easier. Of the thousands who joined us from as far away as Australia, more than half of them were attending their very first conference. Now, we have a tremendous opportunity to build on that reach and amplify that success with expanded programming and even more community elements.
If all goes as planned, the 2022 National Conference at the JW Marriott Grande Lakes in Orlando will be in-person, but will also be available virtually, as will nearly all programming going forward.
We thank you for your understanding and patience as we navigate the Foundation through these unusual times. We'll release more details in the coming months, but please don't hesitate to reach out if you have any questions.
Warm Regards,
Cameron Penn
President, OIF Board of Directors
cameron@heyguymedia.com
Questions? Please contact the OI Foundation at bonelink@oif.org or (844)889-7579
---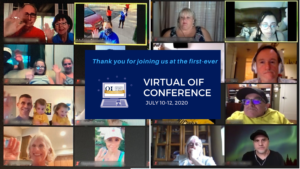 Thank you to all of our speakers and OI community members for such a wonderful first-ever OIF Virtual Conference! 
OIF Virtual Conference Session Recordings:
To view closed captioning, press CC at the bottom of the video.
Welcome Session and Research Update
The opening session welcomes community members and speakers to the 2020 OIF Virtual conference. OIF Medical Advisory Council member and Brittle Bone Disorders Consortium Principal Investigator Dr. Brendan Lee will present an OI research update.
Speakers: Francis Glorieux, OC, MD, PhD; Tracy Hart, CEO; Brendan Lee, MD, PhD; Cameron Penn; Laura Tosi, MD; Maegen Wallace, MD
---
Basics of OI/Genetics
This session is an introduction to osteogenesis imperfecta for individuals and families with a new diagnosis, and for those who want a refresher on the basic facts about OI, including information on genetics.
Speakers: Joan Marini, MD, PhD
---
Pediatric Panel
Sponsored by Children's Hospital & Medical Center (Omaha, NE)
Pediatric physician panel members present an overview of general medical issues including: navigating surgery, bone, muscle and joint health, the role of pharmacologic treatments, and more.
Speakers: Suken A. Shah, MD; Maegen Wallace, MD; Beth Jacks, MS, PT; Reid Sutton, MD; Hollis Chaney, MD
---
Adult Panel; Managing Adult Health Issues
Physician panel members who have clinical experience treating adults living with OI present an overview of general medical issues.
Speakers: Kara Ayers, PhD; Sandesh C.S. Nagamani, MD; Mahim Jain, MD, PhD; Deborah Krakow, MD; Cathleen Raggio, MD; Sandy Sandhaus, MD, PhD
---
Pain and Fatigue
Physician speakers present information and strategies for managing chronic and acute pain and fatigue.
Speakers: Mark Popenhagen PsyD, ABPP; Mahim Jain, MD, PhD; Jessica K. Goeller, DO; Christopher Joseph, MSPT; Daniel Raphael Aaron Sova, MD
---
Mild Forum
This forum discusses topics specific to mild OI including: maximizing bone strength and functional joint health, pulmonary health, hearing loss, and daily living with mild OI.
Speakers: Emily L. Germain-Lee, MD; Peter Smith, MD; Reid Sutton, MD; David M. Vernick, MD, FACS; Eric S. Orwoll, MD
---
Surgical Panel
Sponsored by Pega Medical
This session is designed to provide information about navigating surgery with OI. Physician speakers present information on topics such as rodding surgery and pre- and post op considerations.
Speakers: Richard W. Kruse, DO, MBA; Paul Esposito, MD; Jeanne Franzone, MD; Peter Smith, MD; Laura Tosi, MD;  Maegen Wallace, MD
---
Dental Session
This session provides information about a range of dental issues in individuals with OI. Speakers cover dental management and treatment considerations for children and adults with all types of OI.
Speakers: Jean-Marc Retrouvey, DMD, MSc, FRCD; Kevin Ricker, DDS, MS; Joseph A. Napoli, MD, DDS
---
Click the Session Titles Below to Learn More
SPONSORS