How will YOU raise OI awareness this week?
National OI Awareness Week is scheduled around Wishbone Day (May 6), the international day of OI awareness. There are so many ways to raise OI awareness during OI Awareness Week and Wishbone Day – check out some ideas below!
Raise OI Awareness 
Raise OI Awareness on Social Media
Last year, we reached more than 200,000 people on social media during National OI Awareness Week! We need your help to reach even more this year! Be sure to like and share our #SHAREforAWARENESS posts on Facebook, Twitter, and Instagram pages throughout the week!

Update your Facebook Profile Picture! 
Use your Facebook page to raise OI awareness! Click here to add a National OI Awareness Week frame to your Facebook profile picture!

Share Your OI Story

One of the best ways to raise awareness of osteogenesis imperfecta is to share your OI story and experiences. Gemma's Corner, created in memory of OIF Founder Gemma Geisman, is a place where OI community members can share their OI story, as well as listen to others. Click here to listen to OI community member stories in Gemma's Corner. We want to hear from you! To share your story, please record a 3 to 5 minute video and send it to jransome@oif.org. For more information, or if you need assistance recording or sending in your video, please contact the OI Foundation.
---
Support the OI Foundation
Create a Facebook Fundraiser
Invite your family and friends to join you in raising OI awareness and supporting the OI Foundation during National OI Awareness Week by creating a fundraiser for the OI Foundation on Facebook! Click here to get started!
Double Good Popcorn Fundraiser

Whether you are into salty or sweet, this awareness week fundraiser has something for everyone! Double Good popcorn is not only delicious but 50% of the sales go towards supporting the mission of the OI Foundation when you purchase from the OIF's virtual popcorn store or create a store of your own! Here's how to get started:
Download the Double Good app
Create your own pop up store using the OIF's code: TJHSBQ
Invite your friends and family to purchase popcorn from your pop up store in support of the OI Foundation from Monday, May 3 – Friday, May 7!
Interested in ordering Double Good popcorn? The OIF Popcorn store will be open May 3-7!
Bone China Tea

Bone China Tea participants can contribute to the OIF's awareness, support and research efforts by enjoying a cup of tea in the comfort of their own home. The best part is, there is no event to plan! Simply invite your guests to enjoy a relaxing cup of tea at home and then make a gift to the OI Foundation with the money they may have saved by not going out to a real event.
While planning your Bone China Tea, you have the option to mail physical invitations to your guests, or hold the event completely online. Start planning your Bone China Tea event at www.oif.org/campaign/bonechinatea/
---
Mark Your Calendar
May 1, 2021
Virtual Bone China Tea Party

Sip, Sip, Hooray! Please join the staff of the OIF and OI community member, Susie Wilson, for a virtual tea party on May 1st for Bone China Tea Day during National OI Awareness Week. Bring your finest china and freshest baked good for warm conversation and togetherness on May 1 at 3:30pm ET. Dress to impress… your mug that is! During the event, we will take a poll of best teacup and the winner will receive a prize. All ages are welcome to attend. To register for the event, please visit www.oif.org/event/virtualbonechinateaparty/
May 6, 2021
Wishbone Day (International OI Awareness Day)
Wear your yellow in celebration of Wishbone Day! Each year on Wishbone Day, the OI Foundation shares facts about OI on social media every hour. Make sure you are following the OI Foundation on Facebook, Twitter, and Instagram so you can help us raise OI awareness worldwide by liking and sharing every #SHAREforAWARENESS and #OIstrong post!
May 6, 2021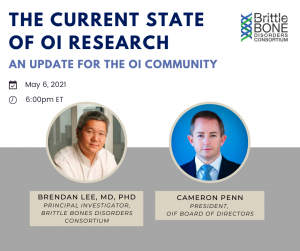 The Current State of OI Research: An Update for the OI Community
There is more OI research being done now than ever before, and the complex findings and breakthroughs can be hard to decipher. Join the OIF in the first of a new series as we demystify and contextualize medical research in The Current State of OI Research: An Update for the OI Community. This series kicks off on Wishbone Day, May 6 at 6pm ET with a conversation between Cameron Penn, President of the OIF Board of Directors, and Dr. Brendan Lee MD, PhD, Principal Investigator of the Brittle Bones Disorders Consortium and OIF Medical Advisory Council Member. Click here to register to attend.
We can't wait to celebrate National OI Awareness Week with you!