The OIF Board Development Committee searches for nominees with a personal connection to osteogenesis imperfecta and experience in one or more of the following areas: accounting, finance, fundraising, organizational management, public relations, strategic planning, business or law.
On July 1, 2022, we will welcome Karen L Braitmayer, Dr. Michelle Fynan, James (Jamie) Sharples, and Dr. V. Reid Sutton to the OIF Board of Directors.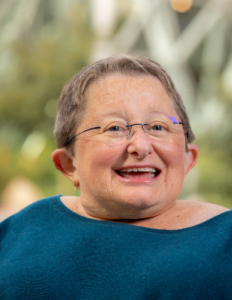 Karen Braitmayer is the founder and managing principal of Studio Pacifica, an architectural consulting firm located in Seattle, Washington. The firm is committed to creating beautifully designed, barrier-free civic, commercial, education, hospitality, medical and multi-family residential projects since 1993. In addition to her role as managing principal, she has recently served on the US Access Board, an independent Federal agency that provides leadership in accessible design public policy. According to her company's bio, "early in her career, it occurred to Karen that as an architect and a wheelchair user, it was possible for her to make a unique contribution to the field. Her professional focus on accessibility and her advocacy efforts for inclusion certainly did just that." As a member of the OI community and a person with OI, Karen is a regular and popular speaker at the OIF National Conference and is extremely helpful to community members who are undertaking renovations to make their homes more accessible. She has been a participant at various international OI meetings. In her private life she is an avid knitter, sailor, and traveler, and enjoys spending time with her husband and daughter.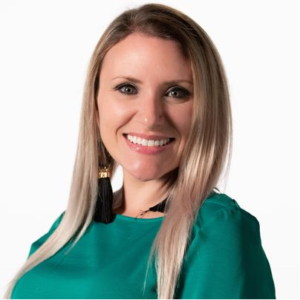 Dr. Michelle Fynan is a Licensed Mental Health Counselor with a PhD in Clinical Sexology. She is a Board Certified Clinical Sexologist, Sex Therapist, and Relationship/Intimacy Coach. She has specialized training from Harvard Medical School in Treating Couples, and she holds a Masters of Science in Counseling with a dual specialization in Mental Health Counseling and Marriage, Couples, & Family Therapy. She offers virtual coaching for singles, couples, and groups on the topics of dating, relationships, sex, and intimacy, with a specialization in chronic illness and disability. Michelle has Type 1 OI and grew up as an active member of the OI community, regularly attending conferences and support group meetings with her parents. Now as a mental health professional, she has presented at a number of national and regional conferences for the OI Foundation as well as scientific and town hall meetings. She is currently serving on OIF's PCORI Patient Advisory Board and was on the PCORI Education Committee for improving patient centered outcomes at the start of the COVID19 pandemic. She was also a Masters Thesis Committee Chair for a Baylor College of Medicine Genetic Counseling Program student who successfully defended their thesis on parental experiences and satisfaction with genetic counseling for a prenatal diagnosis of OI. Michelle lives in FL with her husband and her two daughters (who also have OI), and she looks forward to continuing to support the mission of the OIF together with her family.
Jamie Sharples lives in Downingtown, Pennsylvania with his 13-year old daughter. He was born with Type III OI and is the only member of his family with OI. Jamie manages the private equity firm he founded in 2012 which focuses on investments in commercial real estate in the Southeast U.S. He frequently spends time in North Carolina and South Carolina for work.
Jamie previously served on the OIF Board of Directors (2003 – 2009) and has acted as the Chair of the Finance Committee for the past decade. His interest in the Foundation is deep and he said, "I've found my work with the Finance Committee very rewarding over the past many years, but I am eager to take a more active role in helping the Foundation develop the best course forward to meet the rapidly evolving challenges it and its constituents face."
Dr. Reid Sutton is Professor of Molecular & Human Genetics at Baylor College of Medicine in Houston, Texas. He is attending physician in the Skeletal Dysplasia Clinic at Texas Children's Hospital where he provides care to children and adults with OI and other skeletal disorders. He is a member of the OIF medical advisory council and was a Principal Investigator for the OIF Linked Clinical Research Centers, a five-year longitudinal study of OI sponsored by the OIF. He is currently the co-Principal Investigator for the Longitudinal Study of the Brittle Bone Diseases Consortium of the Rare Disease Clinical Research Network (BBDC-RDCRN) and the Clinical Team Liaison for the BBDC-RDCRN. The BBDC is an NIH-sponsored, collaborative initiative with 13 participating sites across North America that aims to advance research and clinical care for individuals with OI.