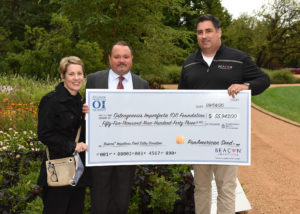 Thank you, PanAmerican Seed! 
Last year, the plant breeders and researchers at PanAmerican Seed launched a selection of impatiens that displayed high resistance to Impatiens downy mildew – Beacon Impatiens. In the spirit of bringing light — and happiness! — to gardens everywhere, they pledged to donate 3% of sales during the 2020 season to the OI Foundation.
Last week, PanAmerican Seed presented a $55,943 donation to past OIF Board Member Tony Benish on behalf of the OI Foundation! Thank you so much for supporting the mission of the OI Foundation! Click here to learn more about PanAmerican Seed's Beacon Impatiens.